Eating fermented foods is very important and beneficial for our gut health. They provide our bodies with lots of probiotics. One of the options of how to use fermented food is the dill cucumber soup (or pickle soup). You can read a little bit about it here.
Notes:
Vegan, Gluten Free
Inroduction
About this Recipe
By: Julia
Now pickles are usually made with vinegar while dill cucumbers are made with salty water, variety of spices and dill of course. They're my favourite ones!
You can buy them in supermarkets or deli or make them yourself which is the best option! When cucumber season comes I'll be sharing my recipe.
So let's make the soup!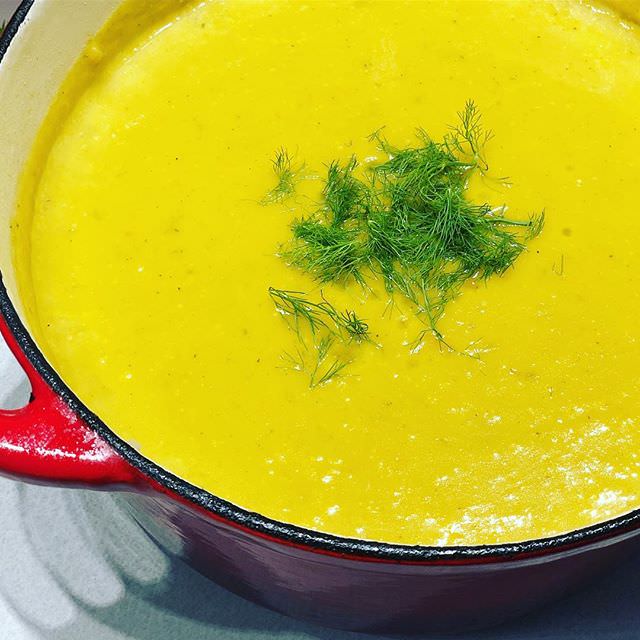 500 g of dill cucumbers (1l jar)

3 medium carrots

1 medium parsley

1/4 celeriac root (optional)

1/2 medium leak

4-5 white potatoes

1/2 bunch fresh dill

2 tbsp vegetable or chicken stock

4 l water

1/2 cup of vegan sour cream or regular cream (optional)
Step by Step Instructions
Step 1
Wash the cauliflower and cut into medium size florets. Set aside.
Step 2
Chop the onion. In a large dutch oven or wok heat the olive oil and fry the onions until translucent.
Step 3
Shred the ginger and add to onions, fry together for another minute.
Step 4
Add curry paste and mix with ginger and onion. (If you are adding cumin, now it's time to add it to the mixture).
Step 5
Add coconut milk and coconut cream. Mix together and bring to boil.
Step 6
Once the mixture is boiling, add cauliflower and mix to cover all the florets in sauce. Leave to simmer for 10 min, mixing from time to time.
Step 7
Add green peas and mix together. Summer for another 5 min (until pea softens but keeps the fresh green color).
Step 8
Remove from the stove and serve with rice.