I wasn't a big fan of curry ever. Maybe because my mum never cooked it and I was not used to it or maybe because of strong flavors. However that has changed and it's one of my favorite dishes now. Especially cauliflower curry.
I like to keep cauliflower a bit crunchy and not over cook it. And than have the curry with rice or bread or just on its own…
As per coconut cream or coconut milk not every brand is great. I like to use Ayam brand but any brand you'll choose, make sure it's 100% natural with no water added or anything else to dilute it.
Enjoy the recipe!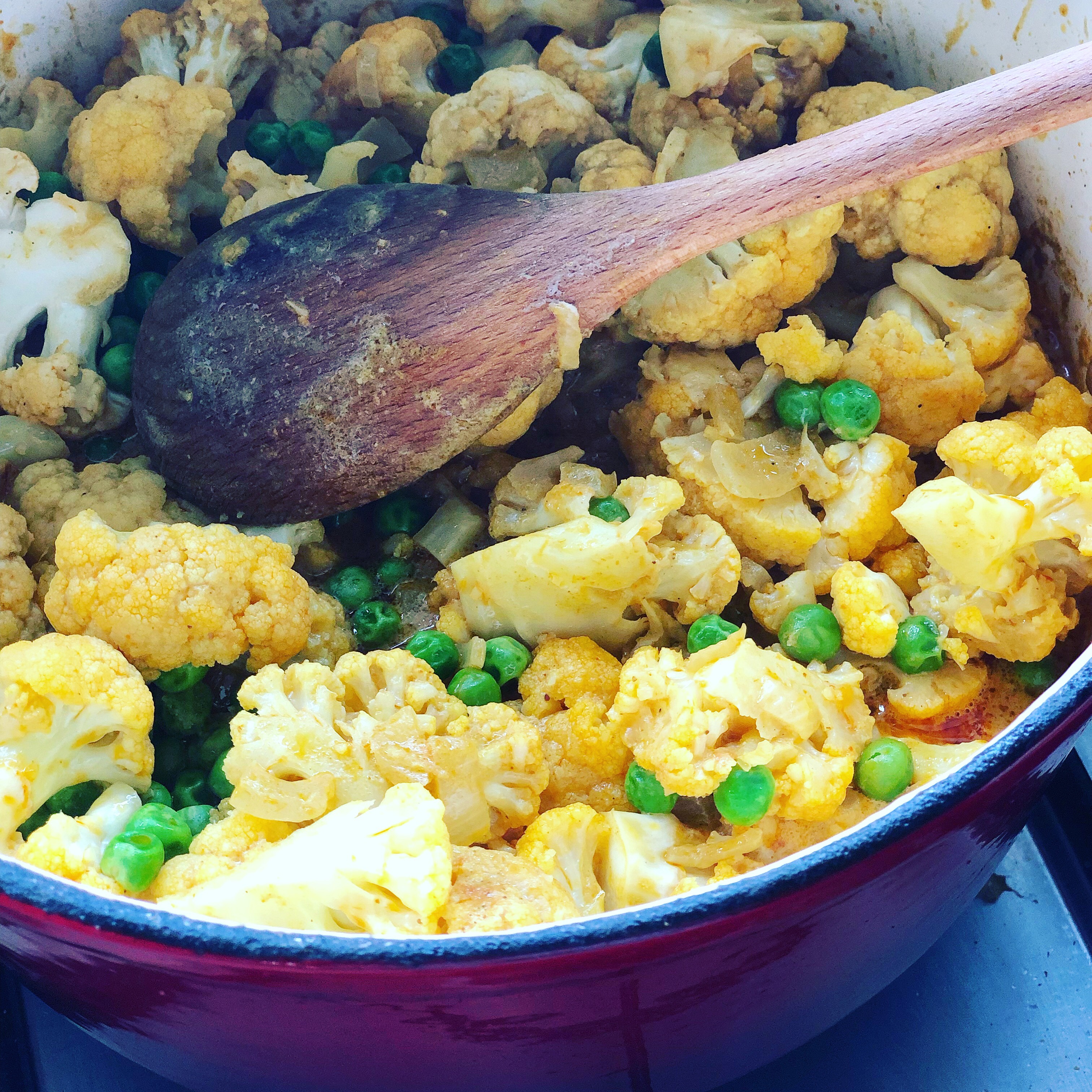 Cauliflower and Green Pea Curry
Serves: 6
Time: 30 min
1 large head of fresh cauliflower
1 brown onion
1 cm fresh ginger root
2 ½ tbsp of Thai yellow curry paste
1 can of coconut milk (270 ml)
1 can of coconut cream (270 ml)
1 tbsp cumin, ground (optional)
1 cup water
3 tbsp olive oil
1 ½ cup of green peas (fresh or frozen)
Method:
Wash the cauliflower and cut into medium size florets. Set aside.
Chop the onion. In a large dutch oven or wok heat the olive oil and fry the onions until translucent.
Shred the ginger and add to onions, fry together for another minute.
Add curry paste and mix with ginger and onion. (If you are adding cumin, now it's time to add it to the mixture).
Add coconut milk and coconut cream. Mix together and bring to boil.
Once the mixture is boiling, add cauliflower and mix to cover all the florets in sauce. Leave to simmer for 10 min, mixing from time to time.
Add green peas and mix together. Summer for another 5 min (until pea softens but keeps the fresh green color).
Remove from the stove and serve with rice.
And in under 30 min you've got a delicious and healthy meal!!! Enjoy!
I like to serve it with basmati rice and I like to have rice very fluffy- here's my method of cooking fluffy rice.